María Félix starred in three films directed by Rafael Gil, Mare Nostrum (1948), Una mujer cualquiera [Loves of a Lost Woman, lit. any woman] (1949), and La noche del sábado [Saturday night] (1950). I have yet to find much written on Gil's work, which may be linked to his politics (1). The obituary in El País indicates that he was a supporter of the Spanish dictator, Francisco Franco. With 85 directing credits to his name (according to imdb), he was prolific and, by all accounts, had most success (box office and awards) in the 1940s and 1950s. Félix starred in his films when Gil was at the height of his career. However, none of these films appear in the limited 'best of' lists in his obituaries and most are hard to source outside of Spain (2).
In Una mujer cualquiera Nieves Blanca (3) (Félix) lives in Madrid and is from an indeterminate Latin American country (4). She leaves her wealthy husband when their daughter dies because he refuses to give his permission to have her treated. This was his right under the way patria potestad was framed during the dictatorship. This could be an implicit critique of the system. Nieves falls on hard times because, as her husband tells her before she leaves, "no sabes trabajar, sólo sabes ser guapa", that is, she has no skills, just beauty. Like many Félix films, Nieves' beauty is not only visually reinforced through key lighting, it also comes up in dialogue or through focus on the male attention she receives throughout the film. Una mujer cualquiera is beautifully shot by Theodore J. Pahle (5).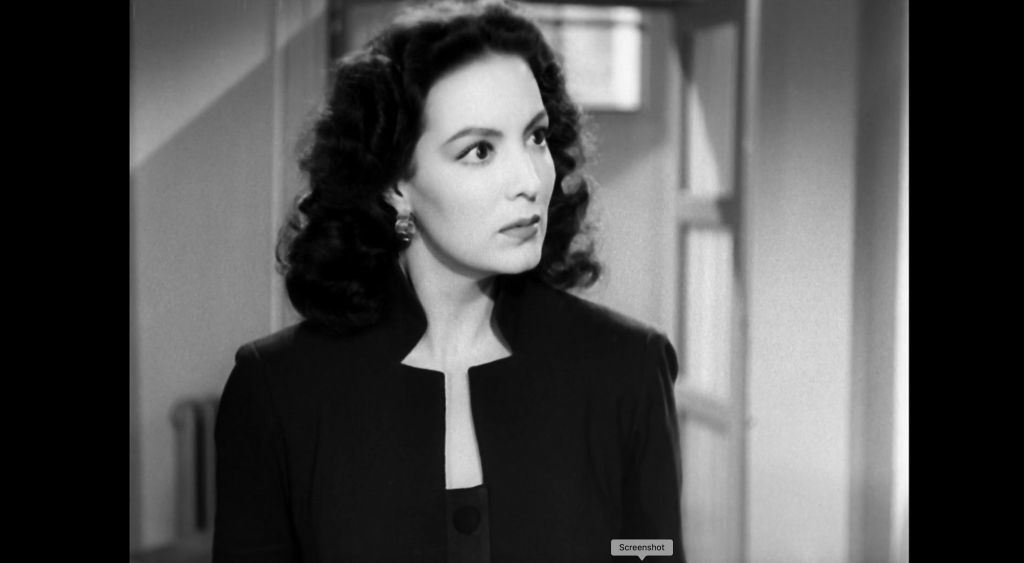 The rest of the plot is slightly convoluted, but I will touch on the most salient details. Nieves goes to live in a boarding house with a good family. One of the inhabitants, Rosa (Carolina Jiménez) is about to announce her engagement on her name day. The day before, Nieves is picked up by a man, Luis (Antonio Vilar), when she is out alone at night. It's not clear whether it was her intention to meet someone. However, it is clear that she is broke, is out when 'good' women should be at home, and appears very aware of what this encounter should involve. They go to his house. They do converse, but, she is taken aback when he seems disinterested in anything amorous. She wanders around his home and then hears a scuffle. She sees him kill a man and she flees the scene. It soon emerges that this encounter was a ruse and Luis appears to have set her up to be accused of the murder. He wipes his fingerprints off everything and leaves hers around (on a glass, a monogrammed handkerchief, and a scent bottle).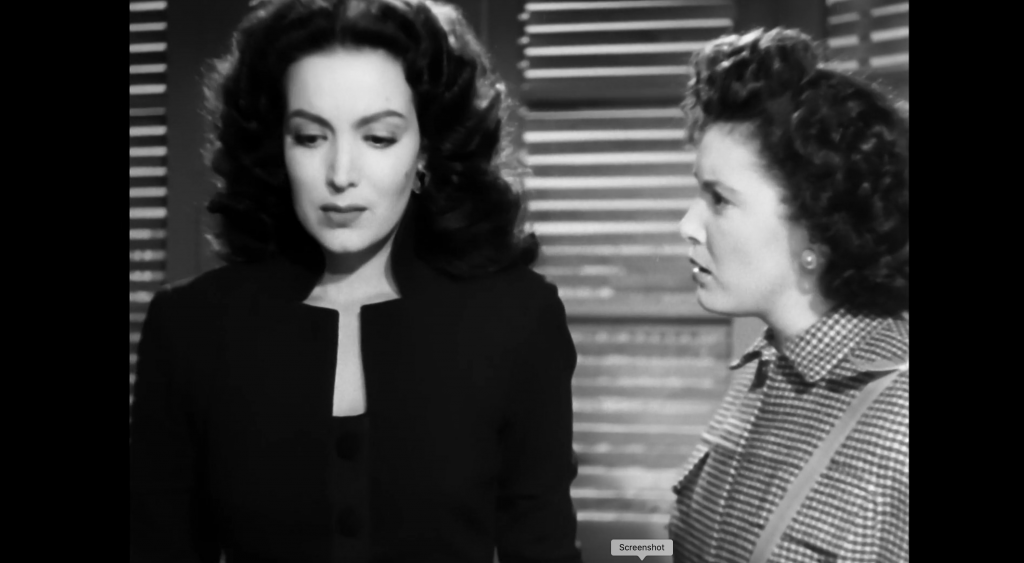 The following day Nieves is out of sorts and reluctantly joins the name day celebration at the boarding house. Luis turns up. He is Rosa's supposedly decent and hardworking intended. Nieves is shocked and says nothing. They both pretend not to know each other. The plot continues in a mix of melodrama and thriller as the pair are thrown together through this terrible crime and, because Nieves is so beautiful (as we are repeatedly told) and has already fallen so low, they become lovers.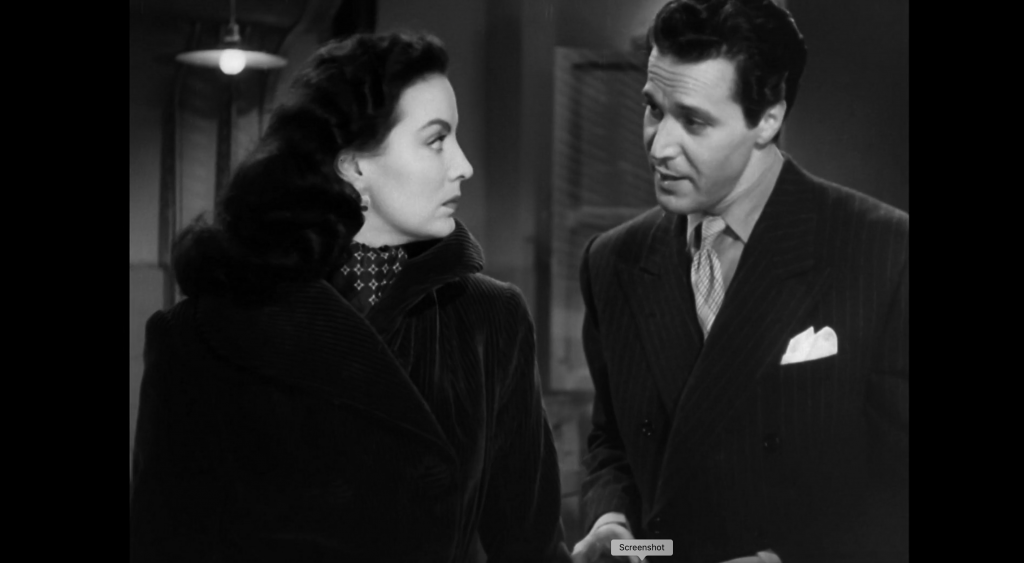 After hiding out in Madrid where it is difficult to evade being handed over to the police by (sometimes creepy) vigilant neighbours or former friends, they flee the city by train using complicated ruses to avoid detection. They arrive in Vigo, where Luis' father lives, steal a car, and Luis shoots a police officer on a motorbike. He tries to plant the murder weapon on Nieves and leave without her. On realising this she picks up the gun and shoots him at point blank. Her downfall is complete. She does not put up resistance when she is arrested. She hasno defence for her actions and and explains her complicity with Luis as "cosas de mujeres" [women's stuff].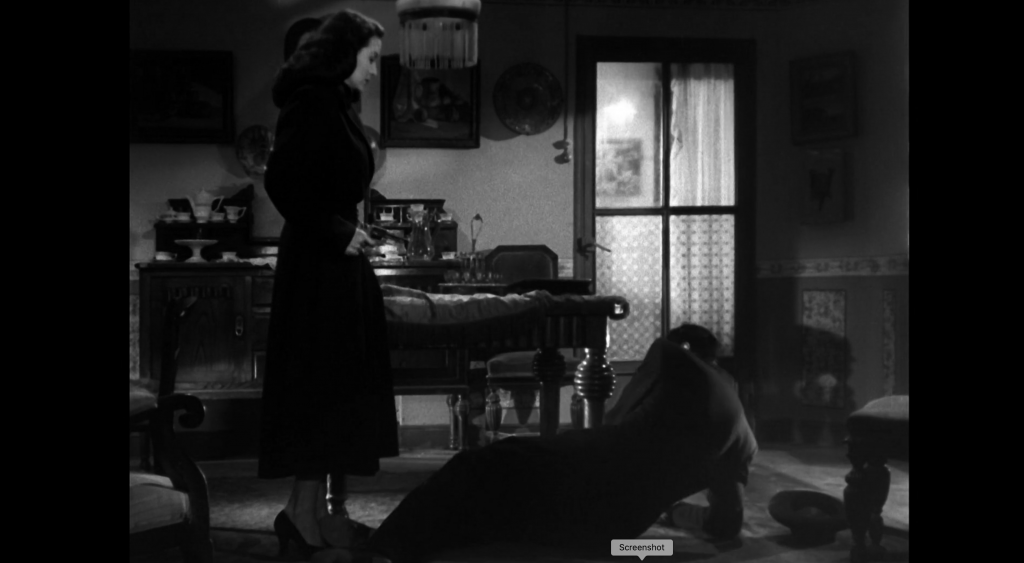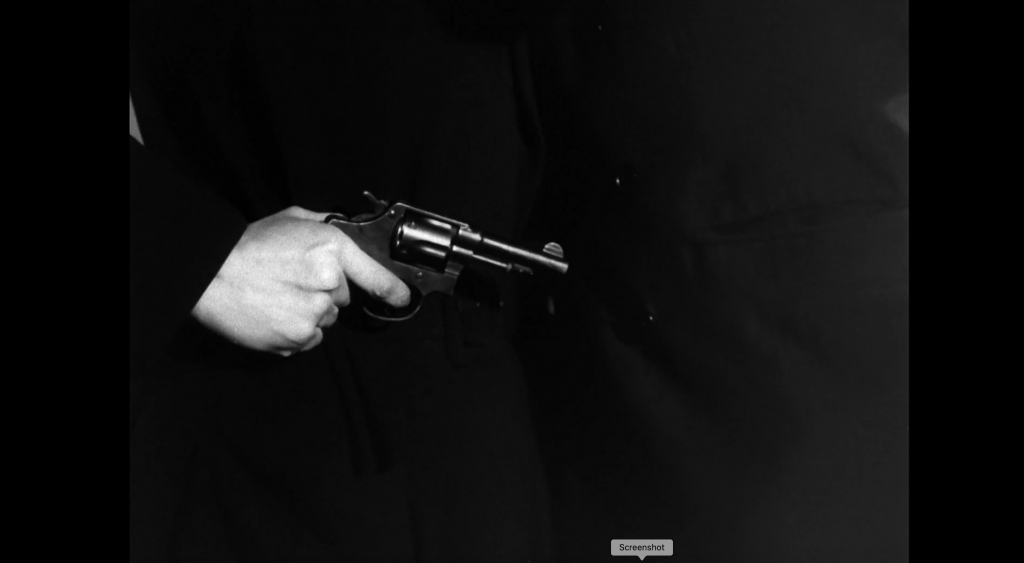 Félix's star turn and her facility to operate within the melodramatic mode provides space to reflect on the place of women in a conservative society. Una mujer cualquiera fits within certain tropes of films starring Félix as a beautiful temptress (in this case despite herself), as a woman who gets revenge, and as someone who falls outside of the confines of behaviour expected of women at the time. Melodrama is this doubly coded mode. You watch a woman transgress norms for much of the film knowing that in the end she will be punished. It allows for the simultaneous thrill of breaking rules all the while evading censorship. The film does not present Spanish society or people as easily conforming to the conservative standards I would have expected of films under the dictatorship. Nieves is melodramatic character and, as is common in the genre in Mexico, it is society that is to blame for her downfall. Her husband's abuse of the law, her lack of skills and education, and the police delay in solving the crime, are all reasons for her eventual undoing.
These subtle critiques are interesting in a filmmaker who was a supporter of the regime. Some of these may be thanks to a script written by Miguel Mihura who wrote Bienvenido, Mr. Marshall (Luis García Berlanga, 1953), a film that was critical of Francoist Spain. I would be interested in a wider analysis of Gil's oeuvre to understand where these films fit within it.
NOTES
(1) There are a small number of articles written about his adaptations of literary texts. These are two examples, Fernando Sanz Ferreruela (2019) "National Catholicism and Censorship as Conditioning Factors of the Cinematographic Adaptation of Literary Works in Spain in the 1940s: Rafael Gil's La Fe (1947)", 1616 8 (0): 143–66 and Pilar García Pinacho (2018) "La Duda (1972) De Rafael Gil: Reconsideraciones Acerca De La Adaptación Cinematográfica De El Abuelo, De Benito Pérez Galdós", Anales Galdosianos, no. 53 (January): 11–31. 
(2) I watched them on FlixOlé a Spanish site. I availed of a monthly subscription at a lockdown discount in April 2020.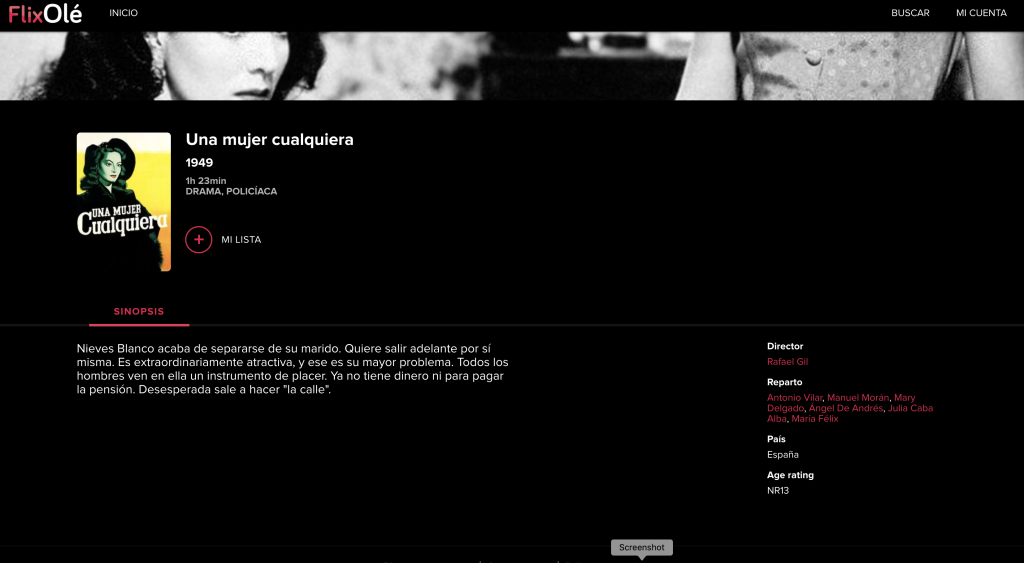 (3) A note on her name. It reads as Snow White "Blancanieves" in reverse, literally White Snow. Presumably, this suggests innocence spoiled.
(4) Her place of origin is a recurrent point of dialogue in the film. Several characters say, "tú no eres española, ¿verdad?", to which she replies, "no" and refuses to elaborate.
(5) I have found no research on Pahle. I would love to read some, he looks like a fascinating individual and the cinematography is extraordinary.