I have just gotten over my jetlag enough to write about my experience in San Francisco.  It was pretty intense on many levels.  I went for seven days with 3 days taken up with the conference, one day with travel and the rest wandering around San Francisco.
On arrival late at night off the BART (underground train system) I walked the four blocks to my hotel along Market street.  It was South of Market, which means that end of the road was full of homeless people, some of whom are obviously just down on their luck, others have drink or drug addictions and others have mental illnesses.  I was struck by how many there are.  It was a disconcerting walk, alone, in the dark, with my luggage in tow and after 16+ hours of travel.  I was feeling delicate and very unnerved by the numbers.  This level of homelessness and vagrancy around the streets is marked throughout the city, but there are certain spots where people accumulate, whether it's a open square, there's a liquor store nearby, or just because there's shelter on a stoop.  Except for my first night, when I wasn't aware of the lay of the land, I didn't feel unsafe, although I was never fully sure, I was more staggered by the apparent disconnect between the right-on affluence of the city and its inhabitants and the level of poverty evident on the streets.  Although most countries have some homelessness and it is a complex issue especially where addictions and mental illness are involved, this is what a lack of a coherent social welfare system looks like.
I have been to San Francisco before for a week on the way back from Mexico some summers ago.  Therefore, I was familiar with the city and had the opportunity to explore it before.  I decided this time to limit my wanderings to a few select neighbourhoods: Haight-Ashbury (where I had stayed last time), Castro, the Mission and Downtown (where the conference was held).
Day one I walked the length of Haight street, famous for its hippy summer of love associations, it still has that air, albeit somewhat gentrified now.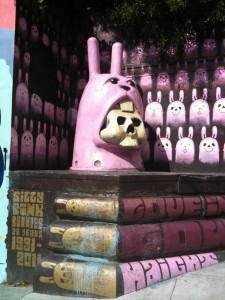 The tobacco stores with their drug paraphernalia sit alongside vintage clothing stores, up-market clothing stores and health food shops.  These are for the most part independent shops.  It also has Amoeba records, 'the world's largest independent records store', which is incredible, almost overwhelming in its offering and an excellent bookstore
Later that day I went to SFMOMA (Museum of Modern Art) which had a special exhibition of Mexican photography.  These were from the SFMOMA's own collection and those of Daniel Greenberg and Susan Steinhauser.  I had seen many of these images before separately or in books, but it was great to see them all together.  They spanned from the photographs taken by the Italian-American Tina Modotti's famous images and those of the American Edward Weston, her onetime tutor and lover.  Then to Mexican photographers such as Manuel Álvarez Bravo and Lola Álvarez Bravo who were influenced by Modotti and Weston, but more focused on everyday life than metaphorical or symbolic imagery.  This then continued on to photojournalists such as Nacho López, Héctor García, Rodrigo Moya and Enrique Metinides with their sometimes shocking, but always beautiful images of dramatic or newsworthy incidents.  Next, were the post-1968 group.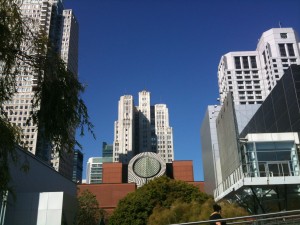 That is, those who felt that they could no longer participate in the idealisation of the nation having witnessed the massacre of protesting university students in the lead up to the Olympics.  The most internationally reknowned of these are Graciela Iturbide, whose dreamlike images of indigenous people move away from the folkloric perspective to a distancing and complicating view, and Mariana Yampolsky's similarly simple, yet slightly more romantic vision of the disenfranchised indigenous peoples.  The sometimes anthropological representation of the poor, indigenous and working class contrast with the more recent representation by Daniela Rossell and Yvonne Venegas of the wealthy.  They photograph the excess and extravagance of the upper classes in Mexico.  Alongside these were photographs of border towns by Katya Brailovsky and Oscar Fernando Gómez who render the ordinary, or even the normally ugly peripheral spaces in cityscapes as beautiful.  The exhibit ended with borderscapes by Elsa Medina and Susan Meiselas.  Both of whom approach the border from different perspectives in terms of size and scale.  Interestingly, the text accompanying this exhibit was in Spanish and English, whereas this wasn't the case anywhere else in the museum. On another floor there was work by Mark Bradford, who started using strips of paper used in his mother's beauty salon, pasting them and layering them on paper to create a painterly effect, to later reclaiming billboards and layering these or sanding them back in a kind or archaeological exercise that resulted in beautiful cityscapes, that have a map-like or aerial impression.
The next day I started in the Castro, a gentrified, gay neighbourhood and, as it was the day after Harvey Milk's Birthday, there was this piece of graffiti.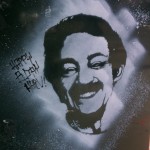 It was early when I wandered and not much except coffee shops and healthfood stores were open.  Little opens before 10 in San Francisco.
From there I wandered back to Market and took a trolley bus and then a MUNI (different underground) to 24th and Mission.  This is the Hispanic (largely Mexican) neighbourhood.  I arrived at Precita Eyes Mural Arts and Visitor Centre.  The title suggests something both much grander than it is and doesn't quite capture it.  It's a community centre which works with artists and young people to create murals and "seeks to enrich and beautify urban environments and educate communities locally and internationally about the process and the history of public community mural art."  There I got very helpful advice and a map of the murals.  I have some images of these in my gallery.  These ranged from the expected images of la raza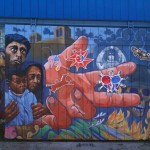 to
civil rights activists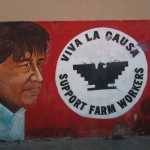 to symbols and
imagery from Mexico and Central America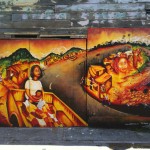 to images to commemorate those who suffered as a result of Katrina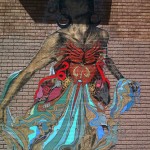 to abstract and personal ones.  It was impressive and often very moving. On the way back I went to the women's building on 18th Street, which my modest smartphone cannot do justice to, so I encourage you to look at the link.  My meanders ended with a walk down the Mission and its changing peoples and faces to Downtown and registration for the conference.  This leads me to my next blog, of which more anon.