In 2010, Mariana Chenillo was the first female director to have won an Ariel for her opera prima. The award for first film is technically for direction, but is distinct to that of direction. Established in 1947, Ariels are the Mexican film academy awards and a woman has yet to be awarded specifically for direction. There are always hopes that this will change. In the past, there have been many deserving contenders, but there is a current upsurge in the numbers of female directors getting international attention, which may result in a win for a woman.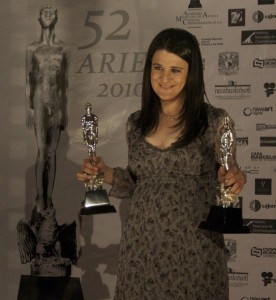 Chenillo has directed two features to date. Cinco días sin Nora (2009) is about Chenillo's grandmother's suicide and the subsequent family fallout. Unexpectedly, it is humorous. Dark humour characterises her work. So, too, does the way women in her films have non-standard and disruptive bodies that present challenges to the social constructions of wellness and women's agency.
As well as Cinco días sin Nora and Paraíso: ¿Cuánto pesa el amor? (2013), Mariana Chenillo's recent short film work gives an insight into her idiosyncratic position in Mexican film. In 2010 she made two shorts that formed part of anthology films: "La tienda de raya" [company store] made in response to the commemoration of the 1910 Revolution, Revolución [Revolution]*, produced by Canana; and "Amor a primera vista" [Love at first sight], distributed as the anthology film, Sucedió en un dia [It happened one day], and was part of the Primer Rally Malayerba PRO challenge asking ten directors to make a short in twenty-four hours. In Revolución her work sits alongside names that are well known internationally including, Fernando Eimbcke, Amat Escalante, Gael García Bernal, Rodrigo García, Diego Luna, Gerardo Naranjo, Rodrigo Plá, Carlos Reygadas, and Patricia Riggen. This is an entrepreneurial group who have portfolio careers primarily as actors and/or directors and, more latterly, also known for their work as producers through the arthouse and film festival circuits. Whilst in Sucedió en un dia Chenillo is alongside a group of directors who have had a consistent output and some circulation internationally, but are more embedded in the national film market. These include, Daniel Gruener, Beto Gómez, Julián Hernández, Gustavo Loza, Alejandro Lozano, Issa López, and Ignacio Ortiz. To have created work for both of these anthologies reveals her unusual position amongst contemporary Mexican filmmakers, she is both part of a select group of transnational arthouse filmmakers and embedded in the national film and television industries.
My chapter "Paraíso ¿Cuánto pesa el amor? (2013): Challenging the Neoliberal in Mexican Cinema" will be published in Carolina Rocha and Claudia Sandberg eds., Resisting Neoliberalism: The State of Contemporary Latin American Cinema (London and New York: Palgrave Macmillan Press, 2018).
*I wrote about Revolución in Revolution and Rebellion in Mexican Film.
Further Reading
As well as the hyper-linked citations, I read the following to help me formulate my ideas around the neoliberal in Mexican film:
Couldry, Nick. 2010. Why Voice Matters: Culture and Politics After Neoliberalism Los Angeles & London: Sage.
Sánchez Prado, Ignacio. 2014. Screening Neoliberalism. Mexican Cinema 1988-2012 Nashville: Vanderbilt University Press.
In addition, I found this text a useful exploration of neoliberalism in reading and academic process:
La Berge, Leigh Claire and Quinn Slobodian. 2017. "Reading for Neoliberalism, Reading like Neoliberals." American Literary History, vol. 29, no. 3: 602-614.