Like many of Jean Renoir's films, French Cancan (1955) is an ensemble piece. María Félix's character, Lola de Castro de la Fuente de Extremadura aka La Belle Abbesse is pivotal to the narrative. She is a dancer and high class prostitute attached to wealthy men in Paris society, but in love with only one, Danglard (Jean Gabin), a theatre impresario. Danglard also loves her and needs her for her high society connections to fund his projects, but has a tendency to fall for young starlets. This practice is presented as roguish, although there are glimpses into the personal and emotional impacts on the starlets of his behaviour. Viewed from a post-MeToo world, his actions are unsettling. Unlike the worst of what has emerged about the industry from the MeToo accounts, he never promises favours, the relationships are consensual, and women often pursue him. At the same time, he is a man with the power to hire and fire performers and his charm and honesty normalises the potential abuse of such power.
I came to this film with high expectations and there were two key reasons why. Firstly, I recently watched Le Grand Illusion (Jean Renoir, 1937), a powerful reflection on the damage wrought by war and, secondly, the high praise given by Criterion on their release of French Cancan as part of a "stage and spectacle" collection* by Renoir, implies that French Cancan should measure up to Le Grand Illusion. On its site, Criterion declares itself "proud to present these three majestic films by Jean Renoir for the first time on DVD" and states that French Cancan is a "Technicolor tour de force by a master of modern cinema". These assertions nearly convinced me to spend $55.96 on this trilogy. I was hampered by the pandemic and unsure about the high cost. The collection is only available via their US site, which makes it very difficult to source at the moment. Therefore, I got a much cheaper DVD in the BFI edition. Like Criterion, they are effusive about French Cancan, "The tale allows for an affectionate re-creation (complete with luscious impressionist colours) of the milieu Renoir fils knew as a child. Sheer cinematic joy." I can't say I echo any of these sentiments.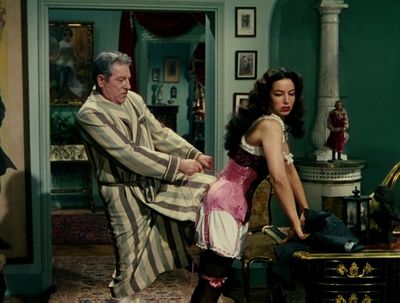 The plot is convoluted and involves two central dramas, a tense love triangle between La belle abesse, Danglard, and the up and coming dancer Nini (Françoise Arnoul), on the one hand, and the stop-start attempts to set up Le Moulin Rouge and revive cancan dancing for a broad (and highly profitable) audience, on the other. All three central characters have an interest in how the club does or does not succeed. It is Danglard's idea and he has the capacity to bring it to fruition. Initially, La belle absesse supports the project through her financial connections and encouragement, but, when Danglard makes her jealous, she purchases the site mid-construction to stall the project. She later relents and the site is bought by another and work resumes (it changes hands many times). Nini has the talent as a dancer, is familiar with the cancan, and she works hard to hone her skills in order to become a famous performer.
Whilst widely extolled, it is a film of limited appeal that has some laudable ambitions. It did prompt me to think about the effort and athleticism of dance and the limited life opportunities for women at the time. None of which are novel, but are unusual for films of the 1950s. The fact that it mocks any moralising yet presents the challenges faced by these women when they do choose to take to the stage is novel. La belle abesse's failings lie in her jealousy not her success as a sex worker. While Nini's fiancé rages at her decision to take to the stage, he is presented as unstable and a poor match for her. Meanwhile, although Danglard leaves Nini for another starlet, this is his failing not Nini's. In similar Mexican films made in the 1950s women get punished for rejecting conventional life choices. In French Cancan there are few consequences.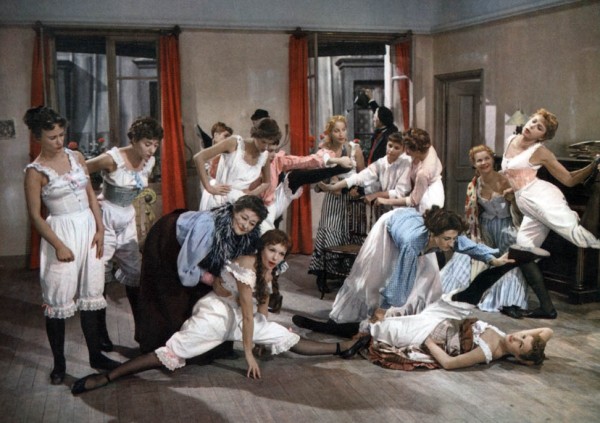 It is a flamboyant tale full of excesses (nudity, costume, high drama, dramatic gestures), that is overly complicated in its telling. Félix's performance falls flat. Her physicality is different from her typical style and the dances she performs lack her usual grace. The film is farcical with a tinge of tragedy and poignancy that suggests at some reflection on the precarious nature of working in theatre and of working class life in Paris of the late nineteenth century. For example, there is an alcoholic former dancer who is a haunting presence throughout the film. Shot on set it feels curtailed by the spaces. This could have the potential of being a referential commentary on theatre spaces, instead it feels hemmed in. I don't want to expend too many words on what doesn't work. Instead, I just want to note the significance of the film in Félix's career.
French Cancan is one of the few films Félix does not get the starring credit. She is the third named actor in the credits. It is one of six French co-productions she starred in between 1951 and 1959. The others were directed by Carmine Gallone (Italy-France-Spain), Luis Saslavsky (Spain-France), Richard Pottier (France-Italy), Yves Ciampi (France-Germany), and Luis Buñuel (France-Mexico) with mixed success. Many of these are set outside of France. In all of these she is a seductress. Some are in Spanish, others in French, which she learnt for those roles, while the remainder are in Italian and are dubbed as was practice in Italy at the time.
I cannot say I commend this as a film, but I would also not want to damn it outright.
*The other two films in this collection are: The Golden Coach (1953) and Elena and Her Men (1956).