This week I watched Stacey Dooley in the US: Border Wars on BBC3 (thanks to Victoria McCollum for drawing my attention to it).  The documentary follows Stacey Dooley, a young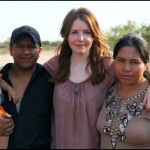 investigative reporter, who speaks to people on both sides of the border: those who want to travel north, on the Mexican side, and those who want to stop them on the US side.  It sets up a fairly well explored representation of the impoverished Mexican and Central Americans (ahem, not South American, as the BBC synopsis suggests), who risk life and limb to cross the border in order to get low paying jobs in the US.  She also meets a few border control guards and NRA supporting, gun toting individuals who want to stop immigrants from entering the country.  She empathises with the
immigrants, gently tuts at the illegality of what they are doing, identifies with the guards (at one point she says to camera, "but Stacey, be realistic, we do need borders, you can't just open the doors willy
nilly, and let every single person who wants to come to America in. Because, then maybe Americans will start to suffer.  You know, you have to think about it more broadly"), and strongly disapproves of the actions of the vigilantes.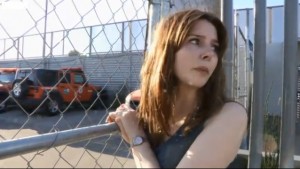 "we do need borders"
There is a long list of films that deal with this dangerous crossing.  Fictional representations include one of the first of this genre, the US and Mexican government sponsored Espaldas mojadas [Wetback] (Alejandro Galindo, 1955), a doomed tale of a migrant who loses his way and his selfhood by going up north; El norte [The North] (Gregory Navas, 1983), a tragic story of two siblings who flee army controlled territory in Guatemala for a better life;  the more recent violent portrayal of displaced Central American gang violence, Sin nombre (Cary Fukunaga, 2009); and the quirky, poignant tale, A tiro de piedra [A Stone's Throw Away] (Sebastián Hiriart, 2010) of a man with learning difficulties who traverses multiple states to return a key to its owner; to name but a few. Most of these present the transit as dangerous or the consequence of the border crossing as either extremely negative (Espaldas mojadas) or an interlude in an otherwise mundane life (A tiro de piedra). Loss and trauma are fundamental to all of the films.
As for documentaries, there is a similarly long list including the HBO production, Which Way Home (Rebecca Cammisa, 2009). Part funded by the US government, it relates the story of the Central American and Mexican children and adolescents who ride on the roof of 'la Bestia' [the Beast], a freight train that takes them through Mexico and into the US.  This is obviously a very hazardous journey fraught with risks of losing life and limb(s). The New York Times provides a useful summary.  In this film, few are successful and many are seriously injured, robbed, raped and returned to their cities, towns and villages distant from the dream of crossing borders.  In this way it's reminiscent of Espaldas mojadas. A similar account of the same transit is related in La Bestia [The Beast] (Pedro Ultreras, 2010), except this time sympathy lies with the migrants.  La Bestia contributed to a wider debate that took place in 2011 in Mexico that saw international and local volunteers mobilize to accompany migrants to give them safe passage through the country, protecting them from corrupt police, gangs and opportunistic criminals.  The fight has as one of its fiercest proponents Padre Solalinde, a Catholic priest and peace and justice activist.  La Bestia calls to the Mexican government to protect rather than criminalize the migrants and for Mexico not to act as border patrol on behalf of the US.
So, against this backdrop, what does Dooley contribute?  She provides the point of view of a young, Englishwoman who presents herself as largely ignorant of the geopolitical forces that contribute to the conditions of the people in Mexico.  Therefore, the programme rarely goes beyond the surface.  She claims never to have met such poor people as those she interviews for the programme.  There is no denying that they are poor.  It is a challenging journey that only those desperate to cross will do. They risk not only their lives, but also that of an unborn child in the case of one heavily pregnant woman, or that of her infant child as a young Guatemalan woman plans to do.  These are desperately poor people.
Dooley speaks to people about to cross over or who have just been deported.  She cries along with them, hugs them and exclaims when she finds out some new, startling information about them or the journey.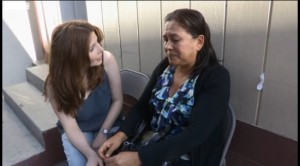 We are told about her (understandable) fear at being in the border territories, which are largely controlled by drug cartels. These emotional expressions may be authentic, but they read as performative.  The problem with this documentary lies not in her tactile, emotional style, but that  this doesn't amount to much analysis of the situation.  We get little more information about the migrants other than their name, their country/state of origin, an expression of their terrible poverty and their hope for a piece of the 'American dream'.
Her contribution may add to the BBC3 viewer's understanding of disadvantage. This is assuming that they are as ignorant and inclined to a surface understanding of the distribution of wealth, the haves and the have nots, old first world/third world modes of thinking, as Dooley presents herself to be.  Dooley, herself, concludes that she will never look at a migrant back home in the same way again.  Nor should she, as the recent play Juana in a Million attests.  But, shouldn't we ask for more of the young audience, who are the projected viewership of this channel?  Should there not be more to this vision than: look at us who have it all, and woe are they who don't?  Where is the cultural activism? The debate? The basis for social change?  The acknowledgement that we are an integral cog in this system?  Otherwise, what is being presented is just poverty porn that, at best, will inspire charitable giving, at worst, will breed cynicism.
A key exemplar of this, which reinforces the us/them divide, is the closing sequence of the documentary.  Dooley speaks to camera on the Mexican side of the border having just visited an area which is occupied by men in transit, living in squalor in concrete tunnels, who are waiting to cross over.  They are at the border, able to see the car park of a clean and unidentified collection of buildings, possibly commercially or publicly owned, which is in an area loosely identified as California.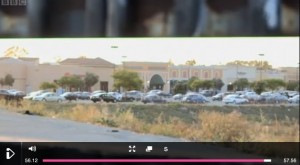 "that's California"
We see a busy motorway and much activity, which contrasts with the shallow riverbed and homeless people on the Mexican side.  No 360 degree shot shows us the busy city beyond the in-between space where the men reside.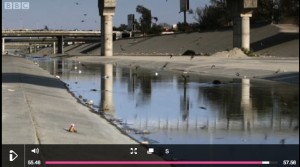 Mexico
Visually, we are being led to conclude (in case we hadn't already decided as much) Mexico=poverty, whilst US=modernity and progress.
In her soliloquay Dooley talks about how, if you are born on one side (Mexico) "the chances are life will be very, very, very difficult and you are going to struggle for most of it", whereas, if you are born on the other side (the US) "you'll have way more opportunities, things are certainly going to be brighter from the off, you can travel, you can do so much more on that side and it's luck, it's luck, that's all it is".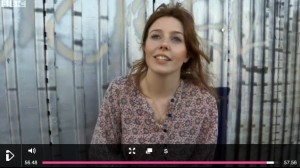 "You can do so much more over there"
This is not the moment to do a cross-comparison of infant mortality, talk of child poverty, mass incarceration, the military-industrial complex that props up injustice at home and abroad, or even consider the armies of unemployed in the US, nor go into the North American Free Trade Agreement (NAFTA) and its consequences for both economies.  Sufficed to say, that some in Mexico are extremely lucky whilst those in the US are not, and, unfortunately, there are many more who live in dire poverty on both sides. It's more than just luck.  There is a complex ecology of micro- and macro-economic conditions in which we, at this distance, are also implicated and to reduce such complexity to 'luck' does the people she hugs, kisses and cries with a disservice, and speaks down to an audience rather than asking them to think.  The BBC should be supporting programmes that do more than reinforce stereotypes, support the now well tarnished myth of the American dream, or peddle binary notions of us (the rich) and them (the poor).  I'm sure Dooley and the BBC can and should do better.
This post was cross-posted on the Centre for Media Research and the Critical Studies in Television sites.